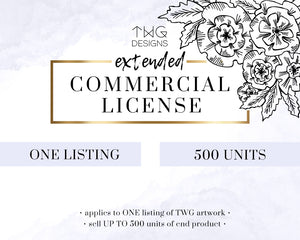 If you have previously purchased an artwork listing from TWG Designs under the "basic/small commercial license" tier, but have reached your max limit of 100 units sold... This is an ADD-ON license option that can be applied to extend your limit to 500 units sold.
Please read the full description carefully:
• This license is for credit free commercial use of ONE artwork listing in our shop.

• With this license, you can sell UP TO 500 units of end product using the artwork from ONE listing in our shop.

• You MUST purchase this license if you intend on using our artwork to create and sell more than 100 units of your own end products. Products include but are not limited to: physical or manufactured items (art prints, stickers, t-shirts, mugs, etc.), logos/marketing material, websites/blog templates, and anything you will be SELLING.

• This license dos not include the actual artwork. You must have purchased the artwork separately.

• You must purchase ONE license for EACH listing you wish to use commercially. For example, if you purchase 1 digital paper pack, and 1 clip art collection, you must purchase 2 licenses in order to use both commercially.

• You are prohibited from reselling the artwork as-is. The artwork must be incorporated into a new design.
• You may not claim the artwork as your own work, or use purchased artwork to create an end product claiming to be "exclusive" or "original."

•••
How to order: 
1 - Add to cart
2 - In the "Note" section at checkout, provide the following information:
- The original order # and name of the artwork listing you are applying this license towards
- Business / Company name
- Website URL
- Type of product(s) you will be selling using this artwork
(licenses are NOT valid/active if this information is not received.)
3 - Your receipt of this purchase confirms right for commercial use, up to 500 units sold. Please keep a copy of this receipt for your records. (No physical items will be sent to you.) 
•••

Copyright of art does not transfer with this license. All copyrights and ownership of images and designs remains with TWGDesigns at all times.
You may not resell, redistribute or give away the designs as freebies or downloads as-is in their original digital format.
•••
NOTE: coupon codes are NOT available for use on any add-on license purchase. This listing must be purchased at full price ($75) to be considered valid. 

•••
Let's be friends! ♥ @twgdesigns 
Share your goodies! ♥ #TWGdesigns
•••
 Please read our Terms & Conditions info prior to ordering.