THE PERFECT GATHERINGS DIGITAL PARTY PLANNER
Introducing: The Perfect Gatherings Party Planner- The Ultimate Hosting Tool for Memorable Events.
Say goodbye to party planning stress and let the good times roll with over 100 functional pages, planning templates, undated planner pages, notebooks, decorative stickers, widgets, functional labels, icons, and customizable covers.
From initial planning to post-party photos, The Perfect Gatherings Party Planner eliminates the chaos so that you can start to truly enjoy the planning process for life's most memorable celebrations. 
SHOP NOW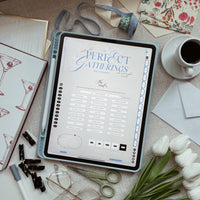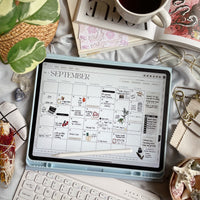 THE PEACE OF LIFE DIGITAL PLANNER
Take control of your life and get organized with The Peace of Life Planner – a digital planner and notebook hybrid.
This planner includes everything you could possibly need to stay on top of your schedule, tasks, and goals. With over 600+ aesthetic and mindfully designed pages, hyperlinked for intuitive use, and bonus items to unlock your creativity. Enjoy the ultimate peace of mind planning experience.
SHOP NOW
THE EVERYDAY ESSENTIALS DIGITAL PLANNER
Your complete life-organization system in a functional planner and notebook hybrid product. The Everyday Essentials Planner features over 600 modern + minimal page designs. Plus tons of extra decorative stickers, widgets, and cover pages for customization.
Keep track of your important tasks, weekly schedule, monthly goals, and everything in between. Here you'll find a range of aesthetically pleasing and functional planner pages, notebook templates, and extra inserts for all corners of your life, in one easy-to-navigate digital file.
SHOP NOW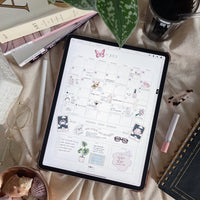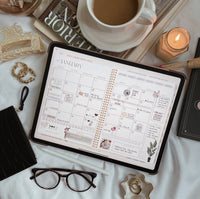 THE LIVING LIFE DIGITAL PLANNER

The Living Life Planner is meant to de-clutter your mind and ease the flow of daily life.
Transform your days, weeks, and months by keeping track of all corners of your life with one easy-to-navigate digital file.
Featuring 50+ aesthetically pleasing page designs, from simple everyday to-do lists, to large project trackers, and even a few journaling options to encourage more mindful moments sprinkled in between.
It's the ultimate highly functional tool to organize and balance absolutely everything you've got going on.
SHOP NOW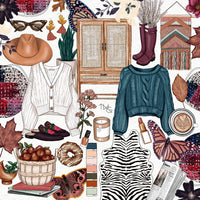 THE DIGITAL ART SHOP
Browse our expansive library of downloadable digital artwork files. Curated into various themes and coordinating color palettes, each bundle is designed to inspire all sorts of creative ideas and projects.
(Commercial licensing available.)
SHOP DIGITAL ART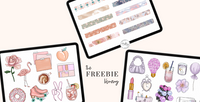 THE FREEBIE LIBRARY
Join to get access to our ever-expanding library of FREE digital downloads - clip art PNG files, planner sticker bundles for Goodnotes app, washi tape swatches, digital planning widgets, and more!

ENTER THE FREEBIE LIBRARY
FIND OUR GIFS ON INSTAGRAM STORIES! ♥ SEARCH "TWGDESIGNS"
ARTWORK COMMISSIONS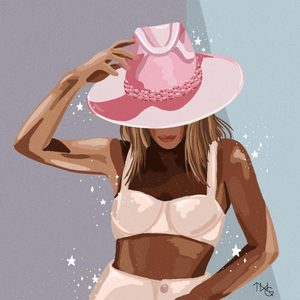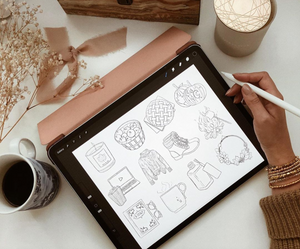 Have something specific in mind? We'd love to design a custom bundle or stylized portrait just for you!
Limited slots available.
BOOK A CUSTOM PROJECT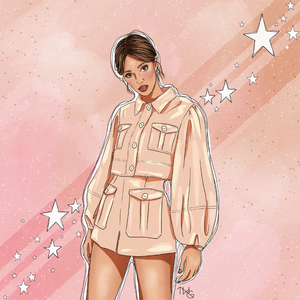 Customer Love
Laura is an amazing, professional, hard working and intuitive designer/artist to work with. I looked at literally HUNDREDS of blog designers on Etsy and elsewhere before choosing TWG, as Laura's designs, choices of colour and artistry really stood out over so much that looked the same. I now have hand drawn, fully customised wallpapers for my website, beautiful banners, business cards, a stand out logo and branding which is unique and professional whilst still retaining an artistic presence. Working with Laura over a private pinterest board was a winner, all correspondence in one place and she always got back to me within a couple of hours. I would wholeheartedly recommend Laura and TWG, I'm so glad we chose her and I will certainly be using her again in the near future!

Lavinia
I've been working with TWG on custom work for many months now, and have been using her gorgeous art for years. Laura is so nice, super talented, and just a pleasure to work with. She's always on time, responsive, and really works with me to make sure I get what I need. Her art is my favorite!

Sam